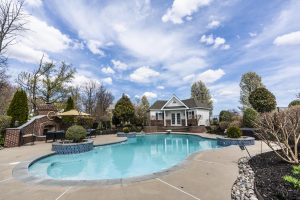 It might sound like a good idea to sell your home yourself and keep the commission in your pocket instead of paying it to an estate agent, especially in a busy market, but before you settle on this strategy, you should be aware of the risks.
1. Advertising expenses and running your own viewings
You pay all of the publicity and marketing expenses, whether you sell your home or not. And not only that, you're going to have to try and gauge which advertising media would be most effective, and position your own ads and track them. In compliance with the signage statutes of your local government, you will also need to get your own for sale boards made and put them up and take them down. And ultimately, because of the COVID-19 pandemic, you will need to arrange and run your own individual viewings that come with all kinds of complexities and legal requirements and liabilities at the moment. On the other hand, a trustworthy agent will follow the strict industry standards for viewings, and as a result, the risks will be substantially lower.
2. Inadequate exposure
Most private sellers on for sale by owner nsw do not have the experience or resources to expose the property to a sufficiently large pool of prospective buyers and generate adequate awareness. On the other hand, successful estate agents would have access to established client bases, as well as national and foreign networks of advertisement and marketing, including property portals.
3. Lack of business awareness and potential for pricing
It is very hard not to over- or under-price your home with regard to the existing demand in your area if you do not have access to the latest sales records and statistics. And buyers are so smart these days that no-one will make an offer if your home is overpriced; while if it is priced too low, you will lose out financially and in the first place, defeat the intent of selling your own home.
4. Lack of negotiating experience / capacity
In certain cases, it is still a buyer's market and most buyers at the moment are tough negotiators, having done their homework and study. For instance, the first thing that most can tell you is that if you sell privately and don't pay commission, the saving should go to them and not you. Most sellers, on the other hand, are not practiced negotiators and would find it difficult, if not impossible, to achieve the requisite detachment in order to reach a mutually beneficial agreement.
5. Legal problems and responsibility
In addition to the need to familiarize themselves with purchase agreements and all kinds of other legal documents or to pay an attorney to review them, private sellers can also face all kinds of liability concerns when dealing with a one-on-one customer. In recent years, laws dealing with sales of property have become even more numerous and more complex, and the current Consumer Protection Act is only one of the minefields that must be crossed in order to achieve a profitable sale.
6. Unqualified Buyers
There may be many individuals who want to buy, but with banks so stringent on credit, only about half of them will actually apply for a home loan at best. It is very difficult for private sellers, however to determine the financial capabilities of prospective buyers so that they do not waste time with individuals who do not qualify for a loan, for sale by owner homes of individuals who do not have enough cash for the deposit and transfer payments, or worse, individuals who want to 'scam' them into giving them their home occupation.
7. Chance of Crime
You may not have a screen between you and prospective buyers as a private seller, or potential crooks who can use the opportunity to get into your home and either steal stuff while looking around, or at a later date "case" the property and security systems for a much larger crime.
8. Other Costs
If your home fails to sell because it is overpriced and/or underexposed, you will just have to continue to pay your bond, rates and taxes, power and water charges, insurance premiums and protection and maintenance costs, and these 'holding costs' will easily grow to more than the possible savings of not paying a commission from an estate agent. This suggests that after six months, the keeping costs will surpass the commission sum, and that is six months in which you could have spent a lot on a new home, or just been stopped from being able to move on with your life.