Home staging is still a fairly recent term. Home stagers use styling, minor renovations and rental furniture and accessories before sale to enhance the presentation of homes. Home staging began in the eighties in the US and is today a global property phenomenon on every continent with home stagers.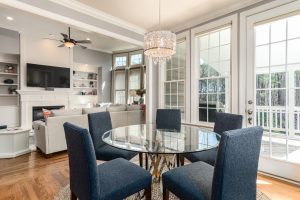 Staged properties attract more prospective customers and typically the property sells quicker and for more cash than it would if it had not been staged. Staging expenses are also deductible from the Tax on Capital Gains. Staging is not the same as home decoration – which according to the personal taste of the people living in it, styles a home. Staging is dressing up a property to appeal to as many prospective buyers as possible with a focus on a common theme. Decorating personifies a home, while a property is depersonalized by staging.

What services are provided by Home Stagers?
Using home stagers will certainly contribute and assist property owners to sell their properties more easily and for more and should concentrate on achieving this purpose with their services provided.

The following should be provided by specialist private sale properties home stagers such as Illuminate Home Staging or Home Staging Studio / Perception Staging / Cape Home Garden / Ideal Space:

Consultation on property & detailed home staging study. To ensure full return, the report offers a closer look at your property with suggested minor repairs and styling.

Styling: For sellers of furnished properties, to prepare the property for professional photography and show days, they can have on-site styling. You stop noticing what needs an upgrade if you live in a property. They will declutter & re-arrange your furniture and accessories for you with their fresh perspective.
Minor renovations: Often, before it is ready to be introduced to customers, a home needs a bit of TLC. Home stagers assist on our customers' behalf by sourcing vendors and project management of minor renovations. This can be as small as painting a dated tile in a bathroom over a pink wall or removing it.
Furniture hire: It is difficult to fall in love with unfurnished homes and they make buyers feel that the offer is in their favour. Home stagers may set up your home to sell for a monthly fee by offering contemporary furniture, art and accessories for your house's main living areas.
What are the top advantages of home staging?
Sell your property faster: the pace at which your property sells is crucial to reducing the cost of sale (prices, levies and bond instalments), preventing price cuts and retaining a good bargaining position with buyers. Staged homes sell 50 per cent faster than un-staged comparable homes, research shows.
Make more money: Research by the US National Association of Realtors has shown that staged homes will deliver a return on the sale price of 8 to 10 per cent. Around 87 per cent of sellers in SA end up lowering their selling price by about 8 per cent, according to the FNB's Estate Agent Survey. Sellers will stop receiving low ball offers, asking price or even more if there are many buyers involved by eliminating any hurdles to purchasing and launching a strategically placed and priced home on the market.

Home Staging Tips- What can sellers do to maximize their home's overall appeal to potential buyers?
Competing Homes in Local Property Market Research: Go to show days of other homes in your town, as it gives you a new and comparative viewpoint on your own property and lets you start thinking like a buyer that is really the perspective you need to develop your own home. Take note about how you feel about stepping into abandoned, cluttered and uninspiring homes. Next, go online and start looking at what is being offered in similar homes in your area. This will give you an idea of what improvements you would need to make in order to compete. See also further information about the sell my business method.

Start Packing-Read Declutter: You intend to travel anyway, so you can start as well. Up to 40 per cent of all belongings can be wrapped and stored in storage, including furniture and items already packed in cupboards. Anything you haven't used in the last 6 months should be packed, including all personal images. Not only will this make your house feel more spacious, but instead of feeling like they are intruding into your home, it will give buyers a chance to picture themselves living there.
Wear & Tear Remedy That Would Be Off-putting To Consumers. Too little light, dirt and smells, stained carpets, cracks, leak destruction, bright paintwork, damp, bugs, wear and tear on grout/window putty/exterior wood are the primary suspects.
Get the basics correct by standardizing your home's look & sound. The house has a significant effect on creating a relaxing space that feels well-loved by choosing a theme and bringing it. A good place to start is to select a neutral paint colour for the entire interior that connects with the flooring and any built-in elements. As this also updates and unifies the look and feel of older homes that have these amenities, do not be afraid to paint over wood or brick. Next, as these really set the tone for the overall feel of the house, consider standardizing tiny details such as door and cupboard handles, curtain rails, and entry-level contractor doors. Repetition is important for creating a space that looks put together so that any elements that do not repeat are eliminated.
Add Loveable Something.
They need to fall in love in order to get customers to part with large amounts of cash. Here it is important to remember that to make sure you get this right, you need to introduce something that is universally lovable. Your home will immediately increase its attractiveness by only adding a few on-trend characteristics. These may be anything from the installation of pendant lights, geometric scatter cushions or a vegetable garden to a barn door, subway tile backsplash or blackboard in your kitchen.

Get A New View. Invite or call your most truthful and stylish friend for tea and encourage them to give you the ugly truth about your home. If you want to keep your friendships safe, get a Home Stager's advice. It is well-spent money.